2022 Recap & New Year's Goals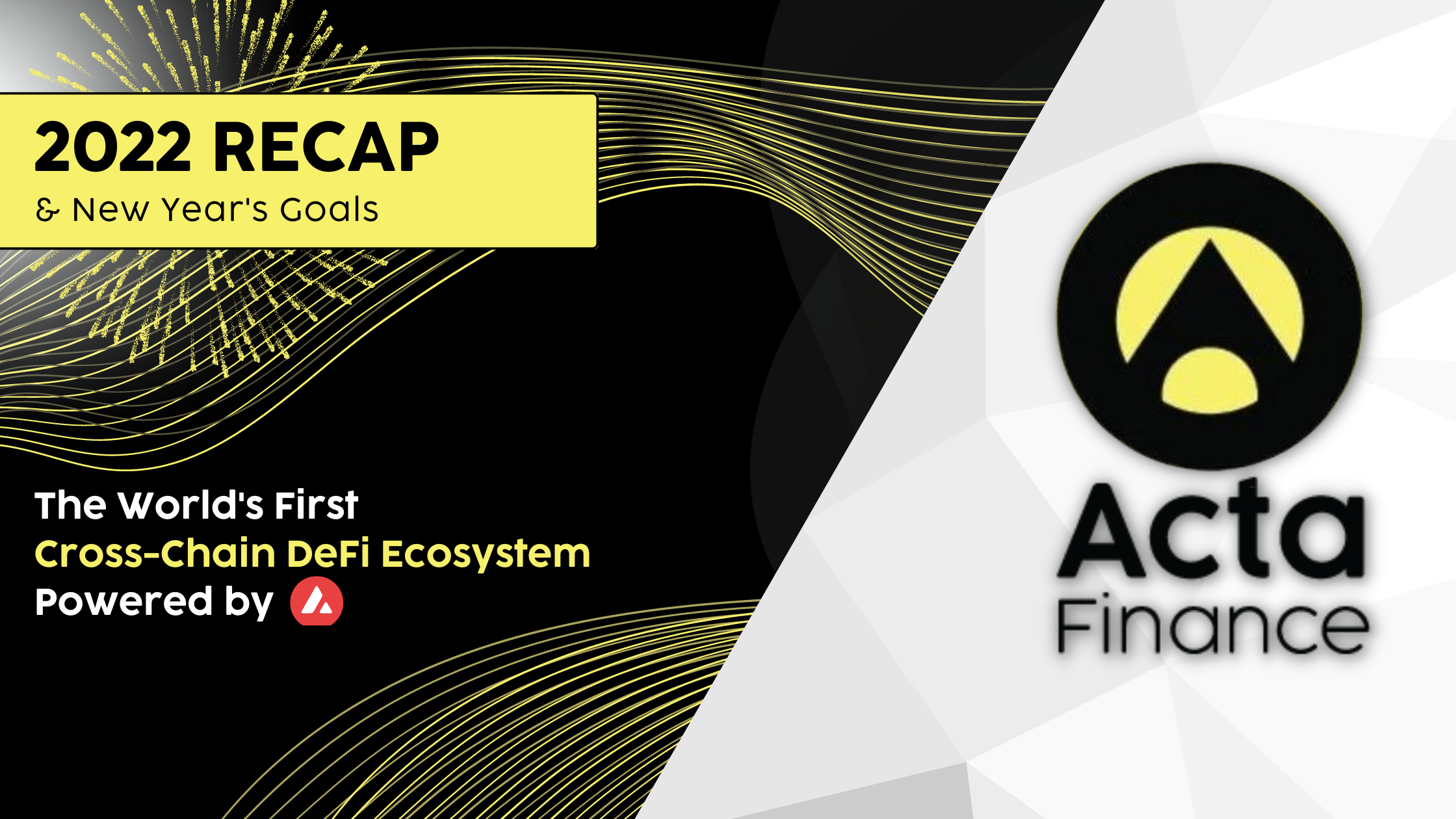 As we close out the year, we at ActaFi are thrilled to reflect on our many accomplishments of 2022 both large and small.
We won multiple awards, completed our MVP SC Development and successfully closed our strategic and private rounds.
But beyond these specific achievements, we are proud of the progress we have made in bringing innovation to the DeFi industry and empowering our users to take control of their financial horizons. We believe that the future of DeFi lies in complete ecosystems that are cross-chain interoperable and giving users the freedom to choose the blockchain on which they operate the protocols.
Our vision is to bring together the best passive earning features and DeFi products in one ecosystem, creating a DeFi playground that offers the best potential outcome for traders and introduces both new and existing passive earning opportunities on-chain, in a fair and transparent way.
As we look ahead to 2023, we are excited to continue expanding the ActaFi ecosystem, including the addition of decentralized margin trading on ActaFi Swap. We also have plans for multi-chain deployment, are aiming to win even more awards and are in patient anticipation of going to market when our DAO Governors determine on testnet when it's to be strategically favourable. Until such time, we will keep a dedicated focus on our consistent development and invite you– our vibrant community– to continue growing and thriving with us.
We are grateful to our amazing network of investors, KOLs & influencers, as well as each and every community member who has helped share and shape our ecosystem with your valuable time and attention.
Happy New Year from ours to yours and may all of our greatest accomplishments of 2022, be our smallest of 2023!
About Acta Finance
Acta Finance is a two times award-winning (Malta 2021, Toronto 2022) cross-chain DeFi platform governed by smart contracts that innovates the DeFi industry with the ActaFi Ecosystem. Acta Finance introduces a Referral Program, Address Milestone Rewards, and a DAO Program to support platform growth and user activity-based rewards.
By offering derivatives in a decentralized way, through ActaFi Swap,  Acta Finance aims to counter the manipulated liquidation events on centralized entities by using a decentralized price feed and a cross-chain liquidity aggregation.
Follow our Social Media Channels to stay up to date.🚀
Website | Twitter | Medium | Newsletter | Youtube