Acta Finance Is Looking For Marketing Talents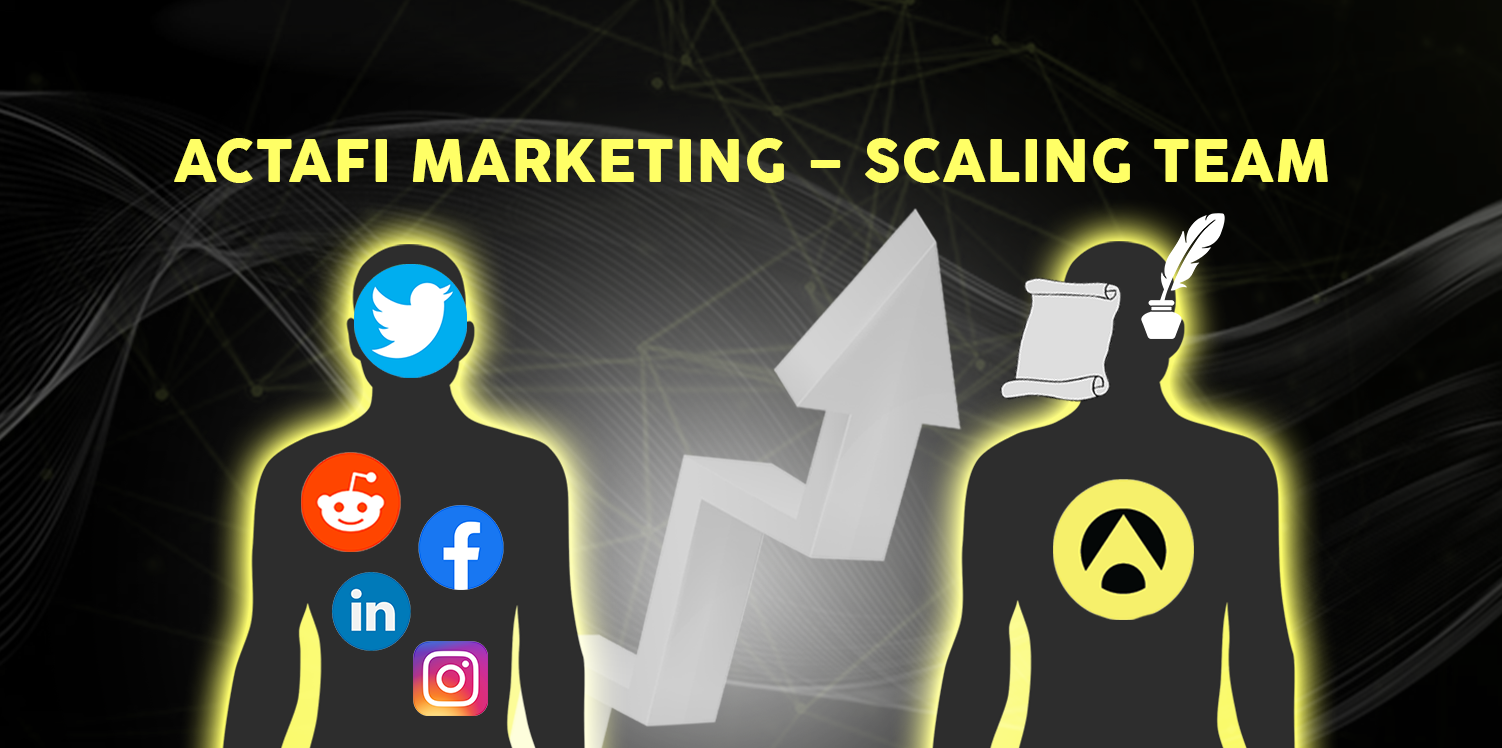 Acta Finance is preparing the marketing team to be at minimum capacity for the go-to-market campaigns and be prepared for the successful voting of the DAO on the ActaFi Testnet. As of today, we open 2 new positions in the marketing department: Social Media Manager and Technical Content Writer.
Last week's FTX news did not distract the ActaFi team. While the market is digesting the aftershock, the team has been focusing to prepare the smart contracts for the ActaFi Ecosystem audit, performed by Hacken.io. All developed smart contracts will be submitted for an audit, inclusive the ones that don't have a frontend yet, such as Farming and ActaFi DAO.
Service providers, KOLs, Influencers, and Content Creators in the presale are getting whitelisted as governors to vote on operational decision-making in a transparent way and vote the ACTA Token to the market. The DAO Governors will first vote on the testnet if the vesting schedules will be revised to the current market conditions, prior to voting on the go-to-market. With the smart contracts audited, the team can focus on pushing the ActaFi Liquidity Aggregator to the mainnet so ActaFi Swap can start building up the exposure within the Avalanche ecosystem, before getting deployed on other EVM-compatible networks like Polygon, BNBChain, and Ethereum.
The Presale content creators have their task, the community gets incentivized for exposure, so what about the ActaFi marketing team I hear you ask? 
The marketing team in the meanwhile has been preparing the go-to-market campaigns. A social engagement campaign is prepared and undergoing review on the rewards amounts, to ensure they are strategically in line with the secondary market strategy. While the presale content creators have their pledged services to perform, we incentivize and reward the community members to help us get as much exposure as possible. More information about the growth campaign, through the growth platform Crew3, will be released by the end of the month. The ActaFi Marketing team is opening 2 positions. The team is looking for a:
Full-Time Social Media Marketing Manager
The Social Media Marketing Manager will be working together with the marketing team in order to structure the social media marketing campaign in the direction of product releases and focus the attention on the growth marketing incentives.


Full-Time Technical Content Writer
The technical content writer will be focussing on educational documentation and user guides on how to interact with the ActaFi platform. There are numerous passive earning features available when the ACTA Token hits the market so it's important to have the feature walk-throughs available.
Check out the complete Job Descriptions on the ActaFi Careers page, or simply click here: https://actafi.org/careers 
Do you qualify to join the ActaFi Marketing department and are you up for the challenge of marketing a complete DeFi ecosystem, send your application, LinkedIn profile, and CV by email to [email protected].