ACTA Go-To-Market Community Competition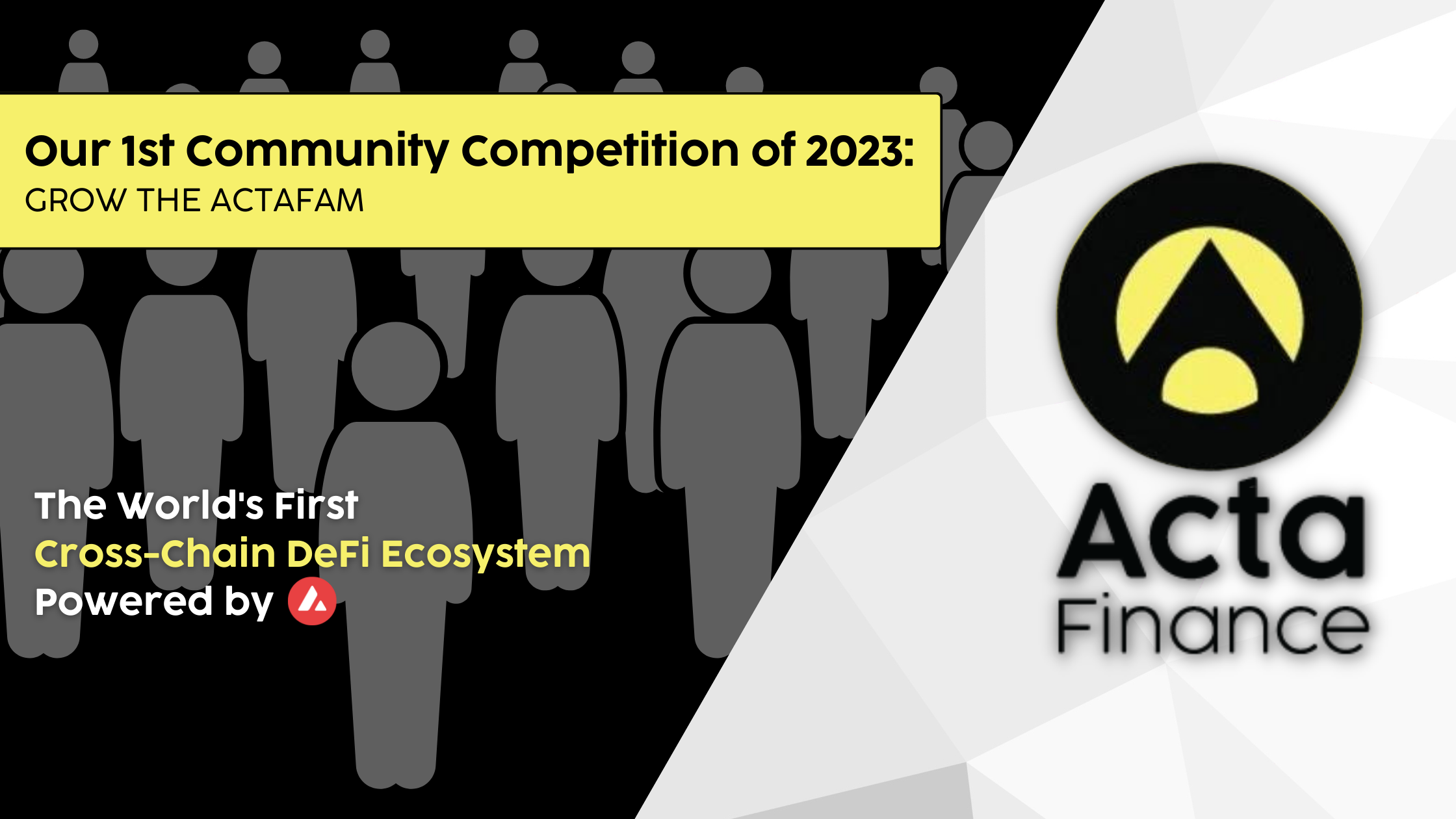 We've been hinting at it but the time has officially arrived! Introducing the GROW THE ACTAFAM engagement Airdrop competition! From the start, we've emphasized the importance of our community to us and we're here to put actions behind our words – Acta Non Verba!
Go-To-Market Exclusive Reward Pool
Starting on Monday, February 27th, 2023 you'll have the chance to compete for a share of our exclusive go-to-market campaign kickoff reward pool of 292,500 ACTA; that's three times the regular monthly rewards pool! The first round of the competition will run from February 27th until May 1st (2 months duration) at which time it will shift into monthly rounds with a monthly reward pool of 97,500 ACTA. In other words, you do not want to miss this massive go-to-market kickoff round! 
The GROW THE ACTAFAM engagement Airdrop competition will take place on Crew3 and feature a vast array of quests and engagement opportunities for you to participate in showcased on our QuestBoard at: https://crew3.xyz/c/actafi/questboard. 
Launch into the competition with starter quests, connect daily for additional XP, and invite your friends to expand the community and overthrow your opponents. Bonus XP will be awarded for content creation and special quests so stay on the lookout for new opportunities to win! New quests will be added every day so make sure you keep your finger on the Acta Finance pulse. The best part? The top 100 competitors on the leaderboard will all win rewards!
ActaFam rewards breakdown
The rewards breakdown for the exclusive first round is as follows:
Top 10 Winners:
1st 45,000 ACTA
2nd 30,000 ACTA
3rd 22,500 ACTA
4th 15,000 ACTA
5th 13,500 ACTA
6th 12,000 ACTA
7th 10,500 ACTA
8th 9,000 ACTA
9th 7,500 ACTA
10th 6,000 ACTA 
Additional Rewards:
11-25: 3000 ACTA 
26-50: 1560 ACTA 
51-75: 1200 ACTA 
76-100: 300 ACTA
After the go-to-market kickoff round of two months closes, the reward breakdown will be to a monthly amount of 97,500 ACTA.
Rewards have you excited? Here's how to get started:
Navigate to https://crew3.xyz in your web browser.
Create an account: Click on the "Sign Up" button located in the top right corner of the page.
Complete the registration form with your name, email address, and desired password. Once you've filled out the form, click on the "Register" button.
Verify your email: After registering, you'll receive an email from Crew3 with a verification link. Click on the link to verify your email address.
Log in: Once you've verified your email address, return to the Crew3 website and log in using your email address and password. 
Join the Acta Finance go-to-market Airdrop Campaign now: https://crew3.xyz/c/actafi/questboard
Grind XP to climb the ladder
Remember, start off by completing the "Getting-Started" tasks and then move along to bigger tasks with more XP and don't forget that every day we will be adding new quests for you to gain daily XP from! If you're looking to absolutely dominate the leaderboard, invite your network to rack up the most XP!
The GROW THE ACTAFAM engagement Airdrop competition will start out as a quarterly contest, with the potential to be extended if participation is off the charts. So, don't miss out on this chance to earn some serious rewards, show off your competitive side, and grow the family! The competition will be fierce but at the end of the day, we're all ActaFam! Let's go!