ACTA Token Launch Details / Trading Competition / Farming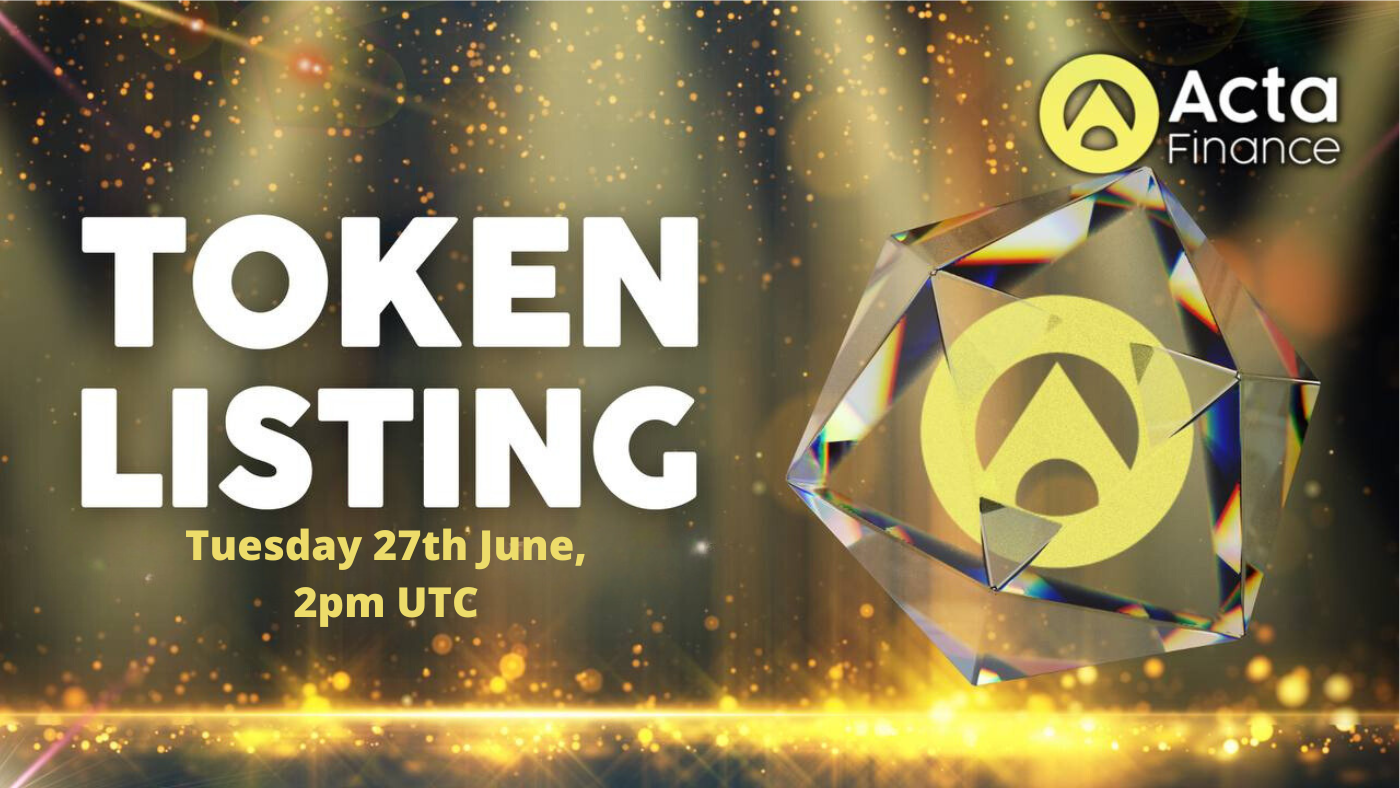 A promise is a promise, deeds and not just words, ACTA NON VERBA!Acta Finance has been deploying ActaFi Ecosystem products to the Avalanche mainnet in the past month, while waiting for DAO Maker's decision to allow ACTA Fundraising. The community voting results were amazing, but not for DAO Maker to make an immediate decision.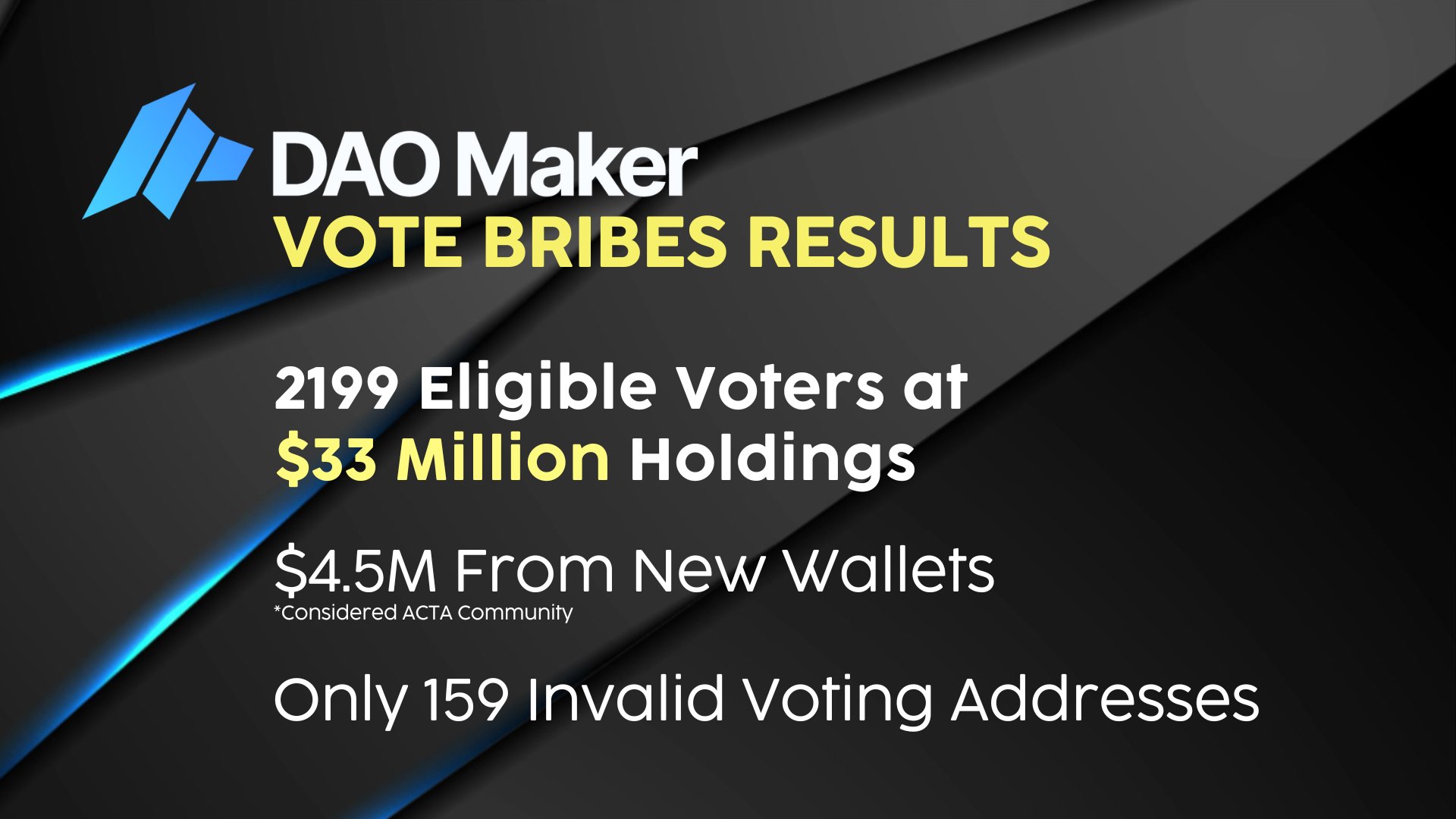 The team promised to get ACTA listed this month (June 2023). Therefore the team has been making long workdays, incl weekends, to arrive at the main milestone of this month, ACTA Token listing!
ACTA Token Listing Details
ActaFi Swap partnered with 0x as liquidity provider to guarantee enough liquidity to satisfy traders as well as the ACTA Token being exposed to anyone taking liquidity feed from the 0x API like TraderJoe, Sushiswap, 1inch, … 
If a DEX has the Avalanche network integrated, there is a good chance you will already find the ACTA Token by searching for the Ticker: ACTA
Or by searching for the ACTA Token Smart Contract Address: 0x4636e16444720075db87a0a4fd998b423c2b5456
Needless to say that coming week is gonna be an important one for both ACTA investors and the ActaFi ecosystem. The schedule looks as follows:
Wednesday, 21st June
Resolve Backlog Tickets - Farming
Thursday, 22nd June
Resolve Backlog Tickets - ActaFi Swap
Fri-Sat-Sun-Mon (23,24,25,26)
Final tests ActaFi Swap  & ACTA Farming
Tuesday 27th June @2pm UTC
ACTA Token Listed ACTA/USDt on DEXs integrated with 0x liquidity API. (ActaFi Swap, TraderJoe, SushiSwap, 1inch,...)
Start ACTA Farming contract
ACTA Trading Competition live
Launch ActaFi Swap
Wednesday 28th June @2pm UTC
Enable Staking withdrawal
Enable 'Claim to Wallet' from ActaFi Vesting portal.

Whitelisting Zealy sprint 1,2, and 3 winners and their cliff will start running. (2 weeks cliff, 1-month daily linear vesting)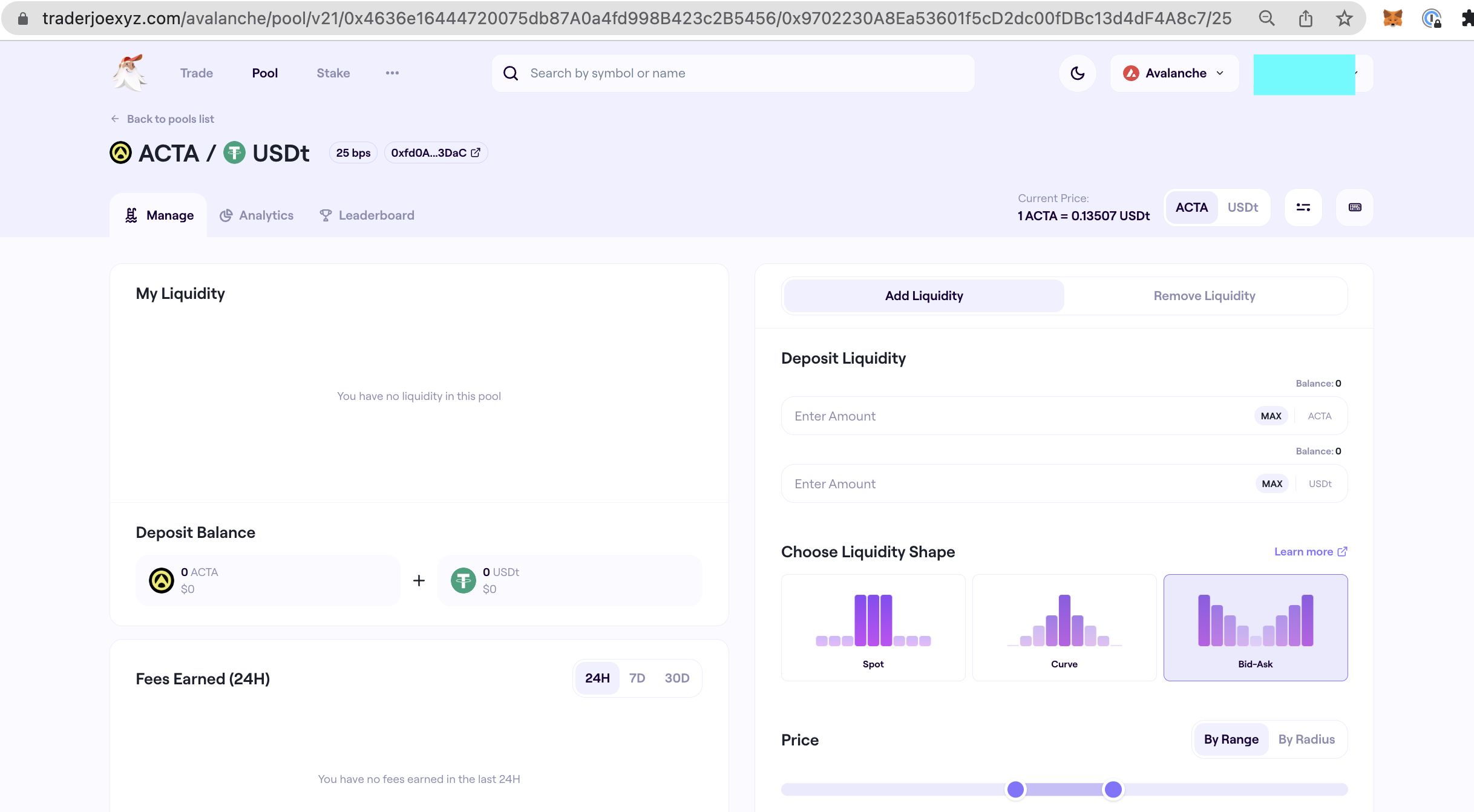 ACTA Trading Competition
The ACTA Trading Competition works by reading onchain when a user interacts with the liquidity pool (buy/sell ACTA) on ActaFi Swap or TraderJoe.  Users get +1 point for each ACTA bought and -2 points when selling ACTA. Users can still Stake / Farm / start referral program / interact with wNFTs without losing any points.
The ACTA Accumulation competition will be a monthly competition, giving new participants the chance to become a winner.  The first competition starts on 27th June, 2 pm UTC, and will end on 26th July, 2 pm UTC.
Rewards
A total amount of 136,000 ACTA is reserved for the first month of the competition for the first 50 participants. The DAO Title holders can vote to increase the number of winners or rewards breakdown.
Farming Contract
The ActaFi Ecosystem launches the Farming contract on Tuesday 27th June, for the ACTA/USDT liquidity pool. Every Liquidity Provider can stake their LP in the farming contract to get a share of the Farming rewards.
The team reserves 1,000,000 ACTA as farming rewards over the duration of 360 days, rewards allocated every second, with a chance that the DAO title holders vote to increase the rewards when the Farming is ongoing.
ActaFi Short-term roadmap
The ActaFi Ecosystem has been developed EVM compatible, which makes it relatively easy to deploy on other EVM-compatible networks. There is attention and interest from upcoming networks to have ActaFi products running on their upcoming network. 
Therefore, the ActaFi Launchpad moves up the development priority list. Designs have been polished and are ready for development. We are targeting mid-September for the ActaFi launchpad to get tested, with the partnered project(s) to run a fundraiser ticket on the ActaFi Launchpad.
Preview the ActaFi Launchpad here.
The ActaFi Launchpad would come strategically, as the Seed, Private, and Strategic sale get their cliff over at the end of August. The ActaFi Launchpad gives a direct utility to the ACTA Token, incentivizes the DAO program, and Staking of ACTA Token, which on its own term again incentivizes the Affiliates in the Referral Program.
Zealy Growth Campaign 4
Acta FInance rewards its community that actively engages on social media. The Zealy Growth Campaign (4) started on 13th June and has $3000 worth of rewards for the top 50 engagers!  Join the Zealy growth campaign here.
ACTA NON VERBA!
Acta Finance Official Social Channels
Twitter - https://www.twitter.com/ActaFi
Telegram News - https://t.me/actafi_news
Telegram Community - https://t.me/actafi_official
Discord - https://discord.com/invite/CDQavQDaR4