ActaFi AMA Recap: 1.13.23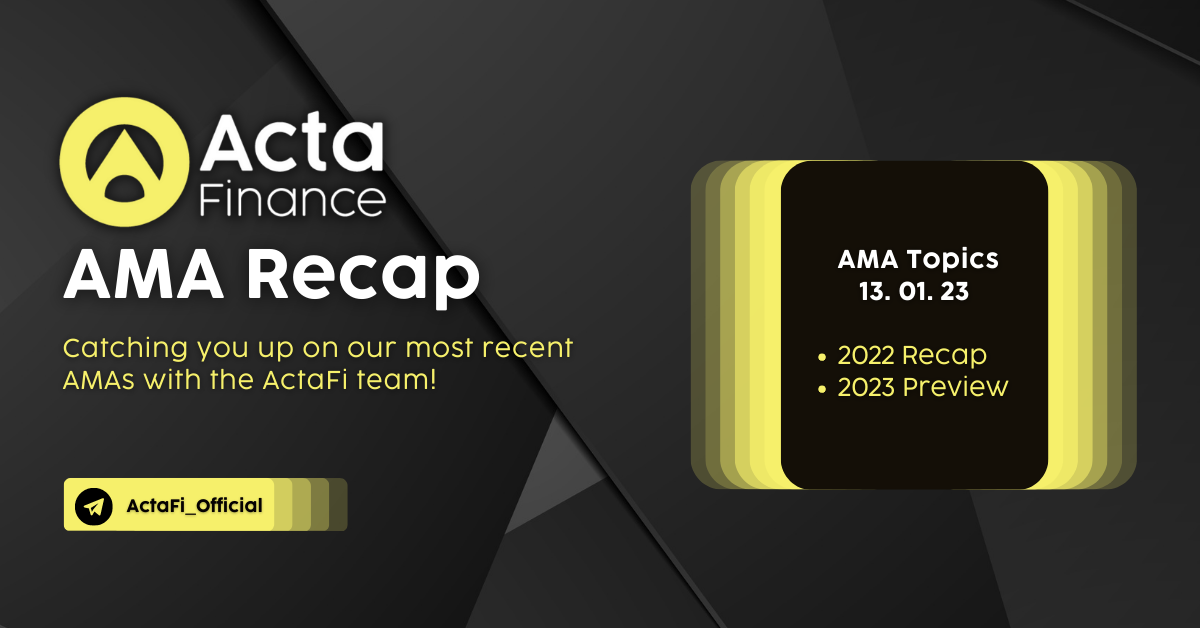 MusesInfinite, [2023-01-13 10:00 AM]
Hello ActaFam and welcome to the first ActaFi AMA of 2023!
I'm so happy to be here and to introduce myself officially as the new Marketing Lead at ActaFi.
My goal is to keep you-- our incredible community-- updated on everything we're doing to build a cutting-edge DeFi ecosystem that is truly revolutionary while having some fun along the way.
Today we have our Founder & CEO Christof Waton with us. Christof, how about you introduce yourself to our beautiful community.
Chris | Acta Finance, [2023-01-13 10:04 AM]
Heyah Maccie! Thanks for leading the marketing and kicking off this year with an AMA.
I agree that we have gone low on the marketing side as we have been focussed on developing.
So with developments in place and you onboard with the marketing, I am looking forward to the DAO voting and TGE.
MusesInfinite, [2023-01-13 10:06 AM]
It takes a team ;)
Chris | Acta Finance, [2023-01-13 10:06 AM]
People that have not seen, heard, or met me; I'm the founder / CEO at Acta Finance. Been in crypto professionally for 5 years in a C-level role.
DeFi is my native language and it motivates me to bring the ActaFi Ecosystem to the public with all innovations we offer.
MusesInfinite, [2023-01-13 10:09 AM]
It's definitely been a pleasure joining the team and getting the chance to learn so much from you already. Also, with our plans of doing more regular AMAs hopefully, our community will get to know you even better!
So let's kick things off with a review of 2022. A lot was accomplished!
With 2022 now behind us, what are three major accomplishments that you are proud of?
Chris | Acta Finance, [2023-01-13 10:11 AM]
2022 was a tough year not just for the industry but also for the project I would say.
Team members getting covid…
We develop a new piece of the puzzle, which breaks the rest of the puzzle so we had to restructure constantly to make everything work.
MusesInfinite, [2023-01-13 10:13 AM]
Wow... Yep.. 2022 definitely required adaptability all around.
Chris | Acta Finance, [2023-01-13 10:13 AM]
What I'm the most proud of:
The team's motivation and progress… developing innovation takes time and the way the team has been taking on the challenges is simply amazing
The community and investors– their patience as well.
We get the occasional questions regarding TGE and so on, which is absolutely normal, but how the community has been patiently waiting really allowed us to focus on the development.
The development updates might have something to do with motivating their patience 😉
Chris | Acta Finance, [2023-01-13 10:15 AM]
A 3rd piece that I'm most proud of:
We have the MVP 😉
It wasn't easy but when the finish line is met, it feels SO GOOD.
A lot of people doubted if we could build it, but with this team, we can take on any challenge I would say.
MusesInfinite, [2023-01-13 10:16 AM]
That's true! What I've experienced so far with the ActaFam is genuine interest and dedication. I know with our continued updates, we'll really get to see this community blossom.
Speaking of the MVP, what are the major updates to it that have been achieved thus far?
Chris | Acta Finance, [2023-01-13 10:19 AM]
Since we voted in April 2022 about whether we should go to the market in such bad conditions or not, (which got heavily voted against going to market), we had to set out a new goal/development milestones, where we would be less affected by the market conditions.
That means building out a lot of our ecosystem.
Up to this point, we have developed the smart contracts, which are being re-audited next Tuesday (17th).
We are confident that we have fixed 80+% of the issues, where the remaining 20% would be new small points that come to the surface.
Chris | Acta Finance, [2023-01-13 10:20 AM]
On TGE, we are releasing:
1. Staking
2. Farming
3. wNFT
4. Referral Program
5. Address Milestones (Swap volume, farming, referral #)
6. ActaFi DAO
7. ActaFi Swap
8. ActaFi Liquidity Aggregator (connected already with Trader Joe and Pangolin, more will follow)
Chris | Acta Finance, [2023-01-13 10:21 AM]
So, now that we have those pieces in place (DAO testing with frontend is next week).
We are looking to get the DAO voting by SAFT holders (Content creators/service providers/partners) underway THIS MONTH.
Chris | Acta Finance, [2023-01-13 10:21 AM]
We are ready from the development side to go to market.
The main question that remains is if the content creators and service providers, both with pledged services, are ready to deliver their promises.
Chris | Acta Finance, [2023-01-13 10:23 AM]
Regarding updates to the products
The changes are:
- Less admin functions
- instant redistribution instead of admin redistributions
- more security
💪
MusesInfinite, [2023-01-13 10:24 AM]
This is truly incredible.
Chris | Acta Finance, [2023-01-13 10:25 AM]
It took 1inch 10 months? With a way bigger team to develop a liquidity aggregator. 
We built way more, with other innovations along the way, in just over a year (in November 2021 we onboarded the Avalanche dev.)
So yes, the development speed is amazing and something to admire/appreciate from a CEO perspective.
Big thanks to the dev team for their dedication and work
MusesInfinite, [2023-01-13 10:26 AM]
And I'm confident the community/content creators/service providers will pull through. Already we've seen so much support with our recent news around testnet updates. It will be my job to make sure they have what they need to support us further! :)
MusesInfinite, [2023-01-13 10:27 AM]
Let's close up our 2022 review with a quick touch on challenges. It was a difficult year for the industry and you mentioned team members getting Covid... What was one of the biggest challenges last year that you or the team faced?
Chris | Acta Finance, [2023-01-13 10:29 AM]
A few points, lemme give em 1 by 1
Chris | Acta Finance, [2023-01-13 10:30 AM]
The bear market for sure
If you want to release in the bear market, you better have a damn good product available that brings benefits for the users.
Imagine launching a swap during the past 8 months. You would be struggling to get liquidity.
As we are a liquidity aggregator, we will not have this issue.
So a lot of things had to get developed/be in place as MVP, in order to not be afraid of the bear marketing from the company perspective and have growth chances and not just drop dead on launch.
Chris | Acta Finance, [2023-01-13 10:32 AM]
Development.
You build a new piece and connect it within the ecosystem, which breaks dozens of other pieces.
Building innovation takes time and reverse engineering the whole ecosystem to fit the latest added piece is time-consuming.
So development is a challenge, but a positive challenge
Chris | Acta Finance, [2023-01-13 10:33 AM]
Last but not least, communication.
How to communicate to a community and the investors, other than developing and showing the developments.
I think I put myself available always, basically for anyone.
So whenever we get feedback from someone (investor, partner, community member, team) we look for a way to resolve and find solutions to improve.
MusesInfinite, [2023-01-13 10:36 AM]
These were tough challenges but I'm glad that a) ActaFi thrived regardless, and b) that you not only mentioned the challenges to us but how you faced them with a solution-oriented mindset in order to overcome them.
I think that's a pretty solid 2022 review so let's move along to 2023!
We just completed some major testnet updates and our community has been checking them out. With regard to the updates, is there anything you'd like to add or anything important you'd like to mention?
Chris | Acta Finance, [2023-01-13 10:37 AM]
There will always be problems/issues/negative things that we can waste our energy on.
If you want to deliver, you need to see if there are solutions possible and then just do it 😉
MusesInfinite, [2023-01-13 10:38 AM]
100% agreed!
Chris | Acta Finance, [2023-01-13 10:41 AM]
I think the latest updates were nice.
TA chart on ActaFi Swap
Professional tool for traders. We want to provide the best possible environment for the traders.
(TA chart + liquidity aggregator)
I want to be able to call ourselves the best, I don't handshake on 2nd places.
Therefore we listened to the traders and integrated licensed TA charts from Tradingview.
The calculator on the home page is nice.
It shows immediately the estimated outcome result if traded with ActaFi Swap or elsewhere.
The more AMM protocols we integrate, the more beneficial our estimate outcome on ActaFi Swap will be.
So expect that to go exponentially
The liquidity aggregator router
The new router shows the routing through other swaps in a transparent way.
Releasing on testnet allows more team members to perform the testing.
We are aware that not all bugs are polished when we release on the testnet. The first week post-release, we actually do QA to find and resolve bugs.
So expect redeployments to happen 😉
This was the last testnet update prior DAO release on testnet 🎉🥳🥳
MusesInfinite, [2023-01-13 10:45 AM]
It's great to know that redeployments will happen and yes, it's always an ongoing process to continuously improve.
Can you give us a quick preview on the DAO? What will be the first major vote that happens and how will that affect ActaFi?
Chris | Acta Finance, [2023-01-13 10:48 AM]
We can always grow and improve 😉
Preview of the DAO on testnet:
We will whitelist the SAFT holders/content creators/influencers/KOLs as a governor on testnet only.
This will allow them to vote on 2 things.
1 - Revise the vesting contracts
2 - TGE release
It is important to have that selected group vote as it's their investment going to market AND they have pledged services.
Chris | Acta Finance, [2023-01-13 10:49 AM]
I get a showcase from devnet tomorrow, which needs to be approved before we push it to testnet.
With a bit of luck we are looking at early next week to have the DAO on testnet and the voting to start the last week of January
MusesInfinite, [2023-01-13 10:50 AM]
That's really exciting. It's going to be great to see it in action.
Why a revision of the vesting contracts?
Chris | Acta Finance, [2023-01-13 10:52 AM]
It's gonna be great for everyone to see it there!
The DAO program is something we agreed on when we delayed the listing last April, with the support of the community/partners/investors.
So it's the last piece to do the new vote, onchain and so completely transparent.
The vesting contracts are something that bothers me a bit in multiple ways.
1. The vesting contracts were made for Bullrun norm.
Quarterly release, with development updates on the go.
Now we have those developments already and therefore it would be tough to catch quarterly releases.
2. We want to move towards daily linear vesting where people can claim their tokens daily, or whenever they please.
So that's what we want to GIVE, as that's a better solution for the user.
3. Fewer TGE release
TGE release is gonna be interesting. We have both strategies ready in case of a big release (currently) or a revised release.
The investors made it clear that they wanted to reduce the risk of releasing the token on the secondary market in a bear market:
- Lower TGE release
- More products in place
- Trading incentives (competitions)
4. The team tokens
Currently the team tokens have vesting on development releases.
With delayed going to market, those developments have been made, meaning 2m ACTA Tokens for the team would be available through vesting.
I think this is unfair to the investors, but also unfair to my team to hold back on it.
Only if we can revise EVERYONE's vesting schedule (positive vote), we will be able to find a middle way.
This is something for the DAO on testnet to vote on.
Whatsoever, we have the strategies ready if they approve the revision, or not.
I know it's something tough to digest, but whichever way I would decide it would NOT be appreciated by groups A B or C…
So I let the DAO decide.
MusesInfinite, [2023-01-13 11:01 AM]
Wow. Yes, hopefully, the vote will result in the most positive outcome for all and we can find a soft landing that makes most people happy... It may seem a little obvious, but why only content creators/service providers/partners are to vote on TGE and revision of the vesting contracts?
Chris | Acta Finance, [2023-01-13 11:04 AM]
They have pledged services to enter our presale (private and strategic)
They are the ones that need to step up the plate and deliver, so it is only normal that they are the ones that are allowed to vote.
If they vote positive for TGE, they have to execute their services in order to receive their TGE release.
It's a safety net we have in place.
We have an audience pool of nearly 13m people, across all social networks of our cap table.
Disclaimer: This is a mixed audience, a lot of people follow Carl the Moon for example on all his channels, MMCrypto, And Crypto Banter…
If we can count on an audience to reach 10%, that's still 1.3m people we reach by having them perform their services.
MusesInfinite, [2023-01-13 11:08 AM]
That's a pretty large audience and again, with consistency and strategy around communication, we will hopefully be able to truly tap into this number and reach the right people.
This makes sense. Thanks for clarifying 😊
Okay, let's wrap our 2023 preview up with one final question. As we prepare to go to market, what do you consider to be favourable conditions in order to have a successful token launch?
Chris | Acta Finance, [2023-01-13 11:12 AM]
As CEO I don't think I'm allowed to talk about the utility token on secondary market performance.
So let me fire myself for a minute
MusesInfinite, [2023-01-13 11:13 AM]
🤣
Chris | Acta Finance, [2023-01-13 11:13 AM]
As an investor myself, I would state:
- Revise those vesting contracts so its fair for everyone (investors AND team)
- Big DeFi volume (positive) on TGE date
- Affiliates brawl to be a success.
- Service providers / KOLs to deliver as promised
Chris | Acta Finance, [2023-01-13 11:13 AM]
Awesome points, so I'm picking up the CEO role again
One of the important things is that we deliver the Go-To-Market right.
We have the chess pieces, we just gotta make our play if the DAO agrees to TGE!
MusesInfinite, [2023-01-13 11:15 AM]
Great to get those thoughts around this subject! And yes, we'll see which way the DAO votes!
Chris | Acta Finance, [2023-01-13 11:16 AM]
Whatever they vote on will be done.
Whether that be a YES / NO on the revision of vesting contracts:
Cool
Whether that be a YES / NO on TGE:
Cool
We are ready for the 4 possible scenarios
MusesInfinite, [2023-01-13 11:16 AM]
Alright! We covered a lot of material today and you've been very thorough with your answers so we may not have too many questions but just in case, let's open the floor now to live Q&A just in case there are still some unanswered.
MusesInfinite, [2023-01-13 11:40 AM]
Awesome. This was an excellent Q&A session. Thank you for the incredible questions! Are there any final remarks you'd like to leave our community with?
Chris | Acta Finance, [2023-01-13 11:42 AM]
I'm happy that we are back at more public appearance now that we have the developments in place.
Thanks to everyone who has been here, thanks again investors for your patience, and thanks team for getting us to the position we're in right now!
MusesInfinite, [2023-01-13 11:45 AM]
Agreed. Happy to be here and thank you all so much for joining us today for our first AMA of 2023! We're going to be making this a recurring series and will be announcing the updated time/date soon.  Stay tuned!
About Acta Finance
Acta Finance (ActaFi) is a cutting-edge DeFi ecosystem that aims to empower individuals and organizations to take control of their financial future and make informed decisions that drive positive change. With a focus on transparency, security, and accessibility, ActaFi is building a decentralized financial system that introduces many centralized features for the first time on-chain to fight manipulation, corruption, and abuse of passive earning features. 
Whether you are an experienced financial professional or just starting to manage your economic well-being, ActaFi has something to offer you. Our comprehensive suite of tools and resources are designed to help you make informed decisions, optimize your financial strategy, and achieve your long-term goals. ActaFi is more than just a protocol – it is a community of individuals and organizations working towards a shared vision of a more abundant, revolutionary and inclusive financial future.
Follow our Social Media Channels to stay up to date.🚀
Website | Twitter | Medium | Newsletter | Youtube | Linkedin