ActaFi DAO Program - All You Need To Know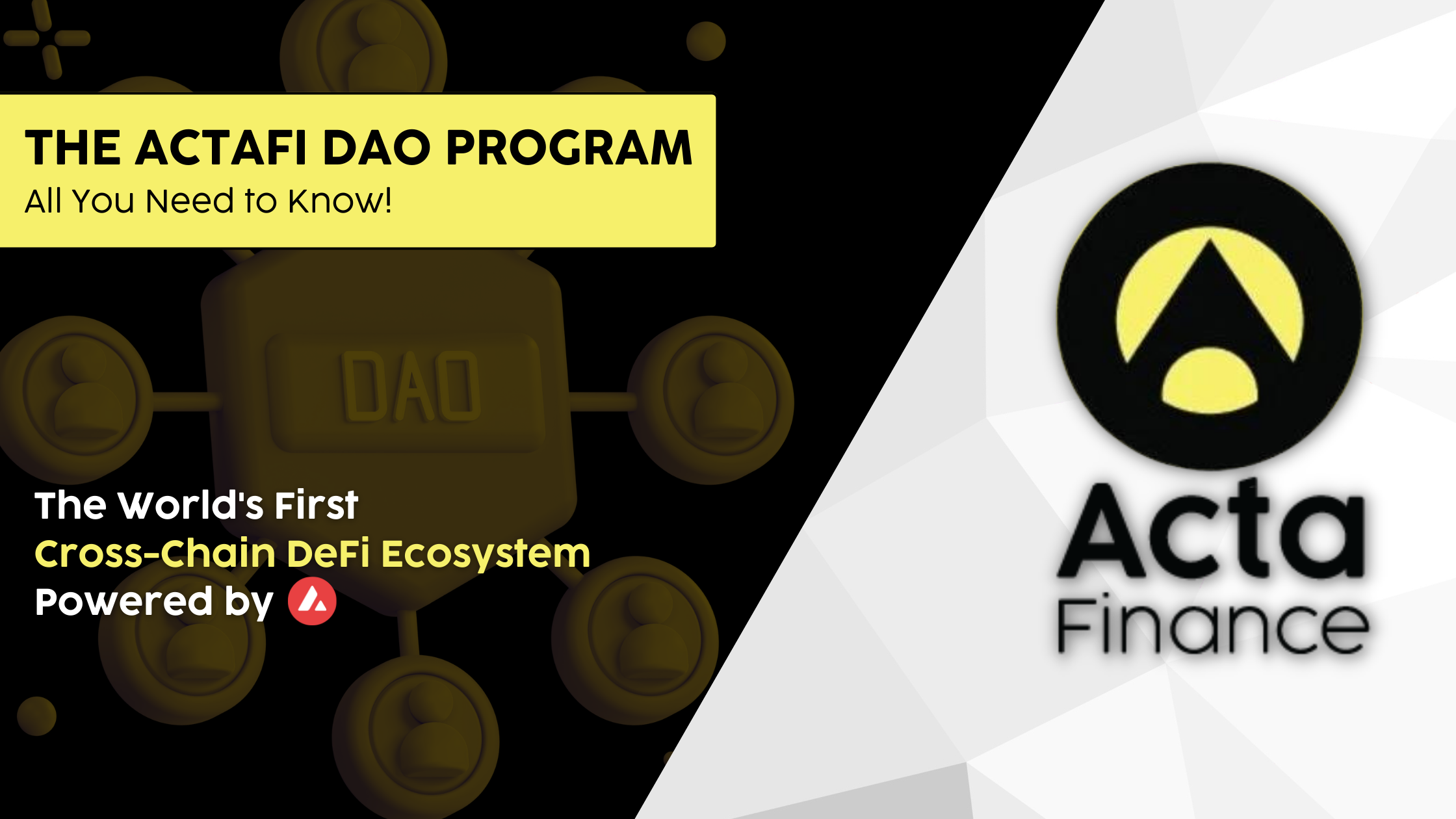 Those of you who are avid ActaFi supporters know our 2022 was a year of heavy development that led to our successful testnet update in the second week of 2023 and now, to our next imminent update: the ActaFi DAO. 
One of ActaFi's pillars is security; as such, the ActaFi Ecosystem is currently in re-audit by our partner Hacken to ensure the safety of the ActaFi Users' assets while interacting with the protocol.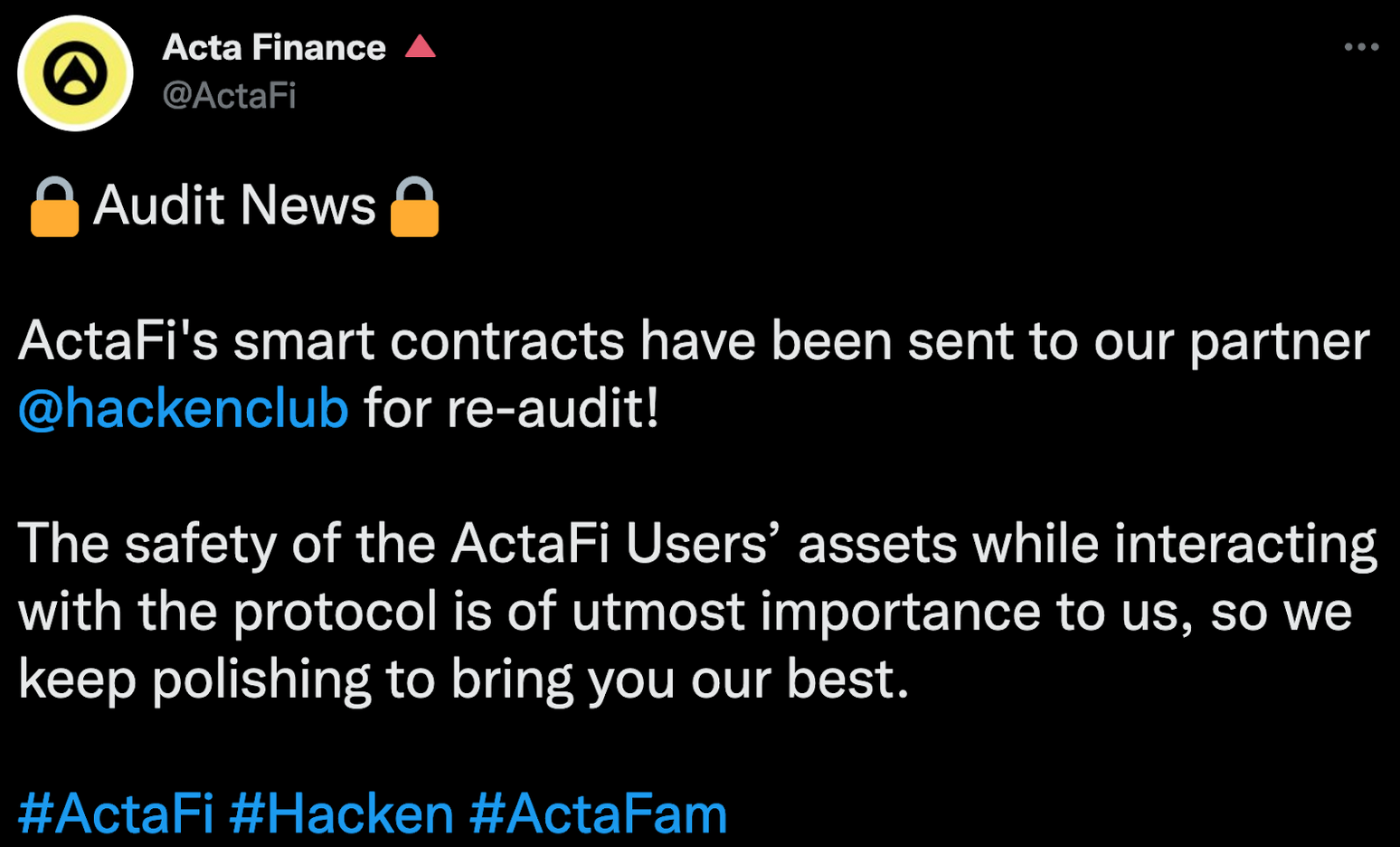 In the meantime, we have been prepping the DAO and are here today to give you a complete rundown.  So let's dive in!
ACTA Go-to-Market? Déjà vû!
The most challenging obstacle when building a sophisticated DeFi ecosystem is navigating the intricate and precarious balance of its various elements; in other words, all smart contracts interact with each other and changes to one, often have cascading effects on the others which require further troubleshooting. Building an innovative DeFi ecosystem is additionally difficult as there are no outstanding industry examples to reference and learn from. This consideration leads us to the enigmatic history of the ACTA Token. 
The ACTA Token was scheduled to go to market in February 2022, but the ACTA Token utilities weren't in place so we had to postpone the listing in order to be compliant with regulations.
In late February, changes were made within the team to ensure the developers understood every piece of the ActaFi Ecosystem puzzle. The changes had a positive effect and we are delighted with the outcome because it's resulted in a rich and robust ecosystem that currently contains: 
Referral Program (innovation)
Address Milestones (innovation)
wNFT - Wrapped NFT (innovation)
Staking
Farming
ActaFi Swap
Liquidity Pools Factory Contract
ActaFi DAO Program
Liquidity Aggregator

It took time to build out every piece of this complex and dynamic ecosystem, but we couldn't be prouder of the outcome or more excited about our next steps. 
The ActaFi DAO On Testnet
We are fortunate that the ACTA Token presale investors in the Seed, Private, and Strategic sale rounds are a diverse group of industry leaders from Content Creators and KOLs to Influencers and Service Providers etc… These parties hold the Testnet Governor titles and will vote on whether the ACTA token will go to market or not as they are the parties most deeply invested in ActaFi, most knowledgeable about past and current market conditions, and in many cases are representing large communities whose investments they are responsible for. The DAO Governors will make the decision about the ACTA TGE and if it's a vote in favor, then together ActaFi and its Governors will pool resources and begin executing all pledged services to make it a huge success.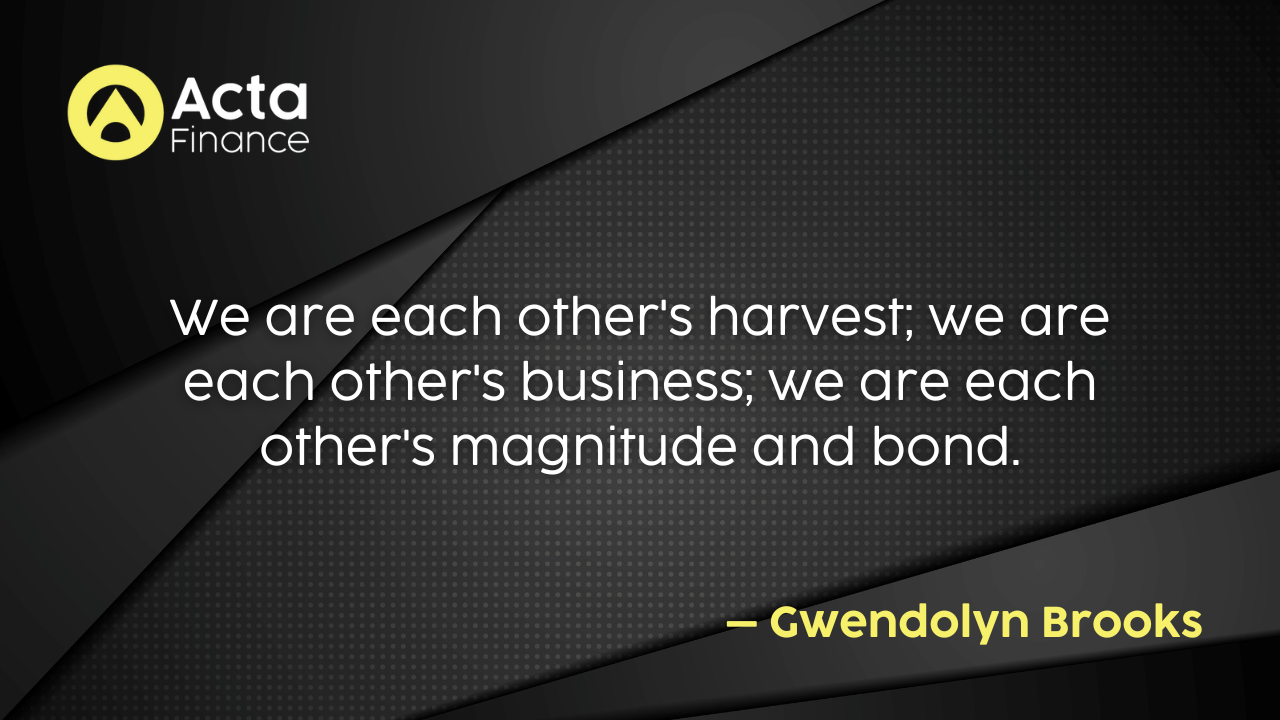 Outdated Tokenomics & Vesting Schedules?
The ActaFi tokenomics and vesting schedules were created for a release in the bull run when growth & volume has a better potential outcome than in a bear market. With this in mind, the ActaFi DAO Testnet Governors will cast their votes on whether a revision of the TGE release and vesting schedules should be done in order to create something more viable and strategically aligned with the current market conditions. The revision will be effective on all the sales rounds, plus Team and Advisory tokens.
Currently, team tokens are scheduled to be released by price milestones and development milestones.  At this stage, both ActaFi Swap and the ActaFi DAO have been delivered, so both development milestones would trigger the correlating team bonuses unless we revise all the vesting contracts; the decision is in the hands of the ActaFi DAO Testnet Governors.
The Minimum Result Required To Pass The Vote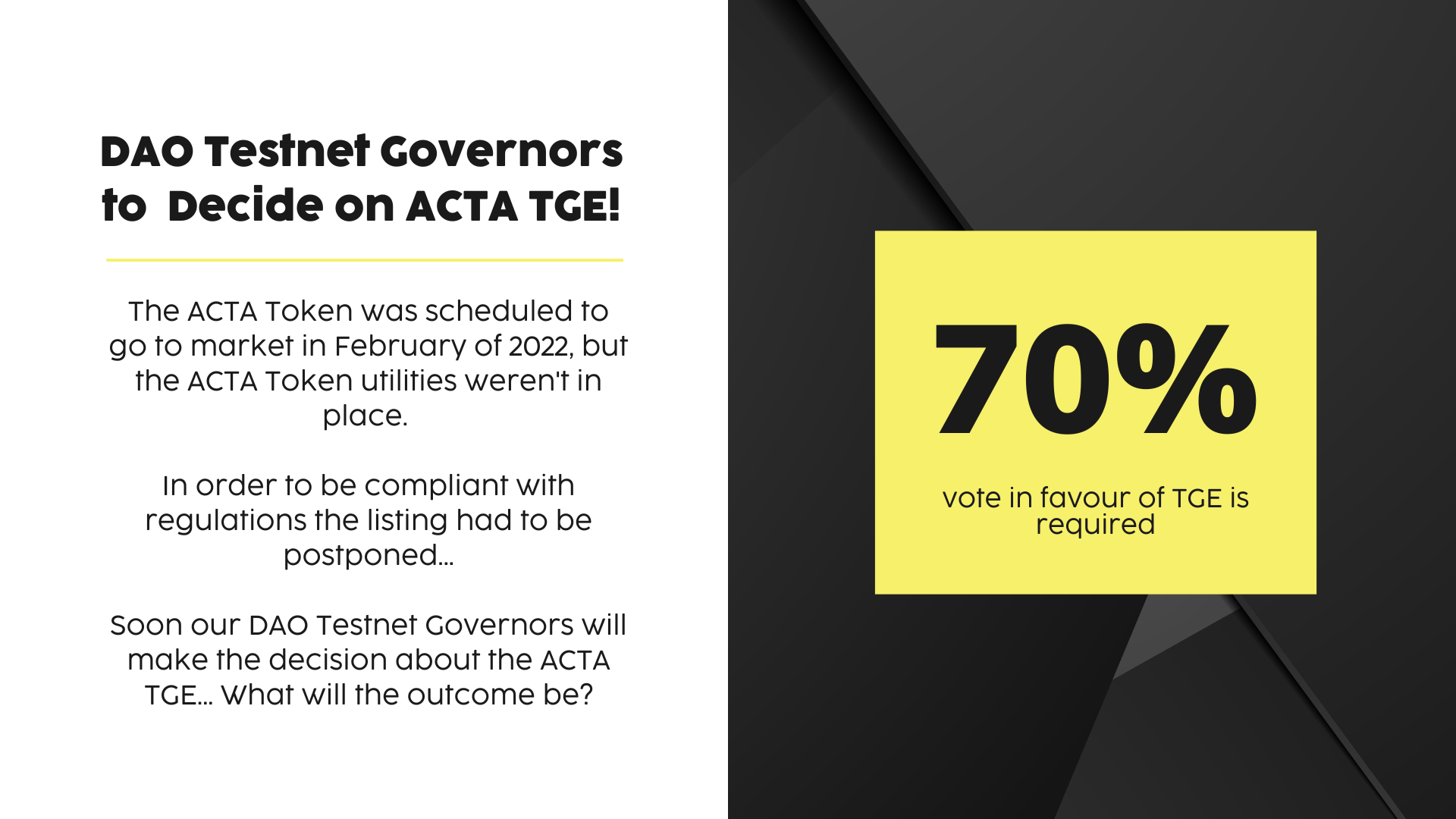 A revision of the TGE release and vesting schedules for everyone requires a 51% vote 'YES' to be successful. 
Once the vesting & TGE release vote is resolved, we move forward with the TGE vote. This subject requires a 70% 'YES' to be successful, which determines whether ACTA will go to market in Q1 2023.
The Acta team will have no involvement in the voting and will rely entirely on the ActaFi DAO Testnet Governors to make this crucial decision, then execute as is fit to the DAO's decision. Different strategies have been prepared for any potential outcome so that we can keep positive momentum and initiate execution immediately. 
ACTA Token Time-Table
The ACTA Token TGE release will happen 1 hour after the mainnet launch of the ActaFi Ecosystem, followed by the ACTA Token listing within 24h. We will be hosting two competitions as a "thank-you" to our ever-loyal and passionate community members. The first will be a trading competition which will start upon the ActaFi Ecosystem launch. Additionally, we will be hosting an ACTA Token accumulation competition which will start once the ACTA Token gets listed. We will provide full details leading up to TGE to ensure you have everything you need to participate. Keep your eyes on our socials!
Acta Finance DAO Program Mainnet Rules
Until today, there was little information released regarding the ActaFi DAO Program, other than the levels and their required amount. Now, you know that the DAO Governors will help lead the decision-making process at pivotal crossroads.
In the future, the Governors will be able to offer proposals to the team and decide the minimum required % to succeed a vote, while every DAO title holder will be eligible to vote.  Changes will require an analysis to review which other smart contracts would be affected by the requested changes.
With the smart contracts being tested, the ActaFi DAO mainnet rules can be released as well:
While having a title, you still earn the staking rewards. The DAO rewards are a bonus for your voting contribution on top of the staking rewards.
Upgrading a title (for example Counselor > Minister) will reset the lockup of 3 months.
It is not permitted or possible to downgrade a title. We had to make a straight line for all DAO titles. Governors have a 1-year lockup and need to re-subscribe.
One address = one title. If a user wants to have more titles, they will have to do so on another wallet address.
People that subscribe to the DAO program will be activated automatically.
The  DAO title rewards are being allocated immediately.
While a title is activated, you can apply to cancel the subscription. You can pre-register yourself to stop your title on your unlock date. You keep receiving the DAO rewards until the unlock date, which automatically terminates the DAO subscription.
DAO Governors are required to provide KYC and have an approval round with the other Governors. 
At the start, only 40 titles will be available, 10 of each. We aim to scale the ActaFi DAO Program gradually in order for it to be most effective and sustainable.
The Long Expected Journey Begins at Last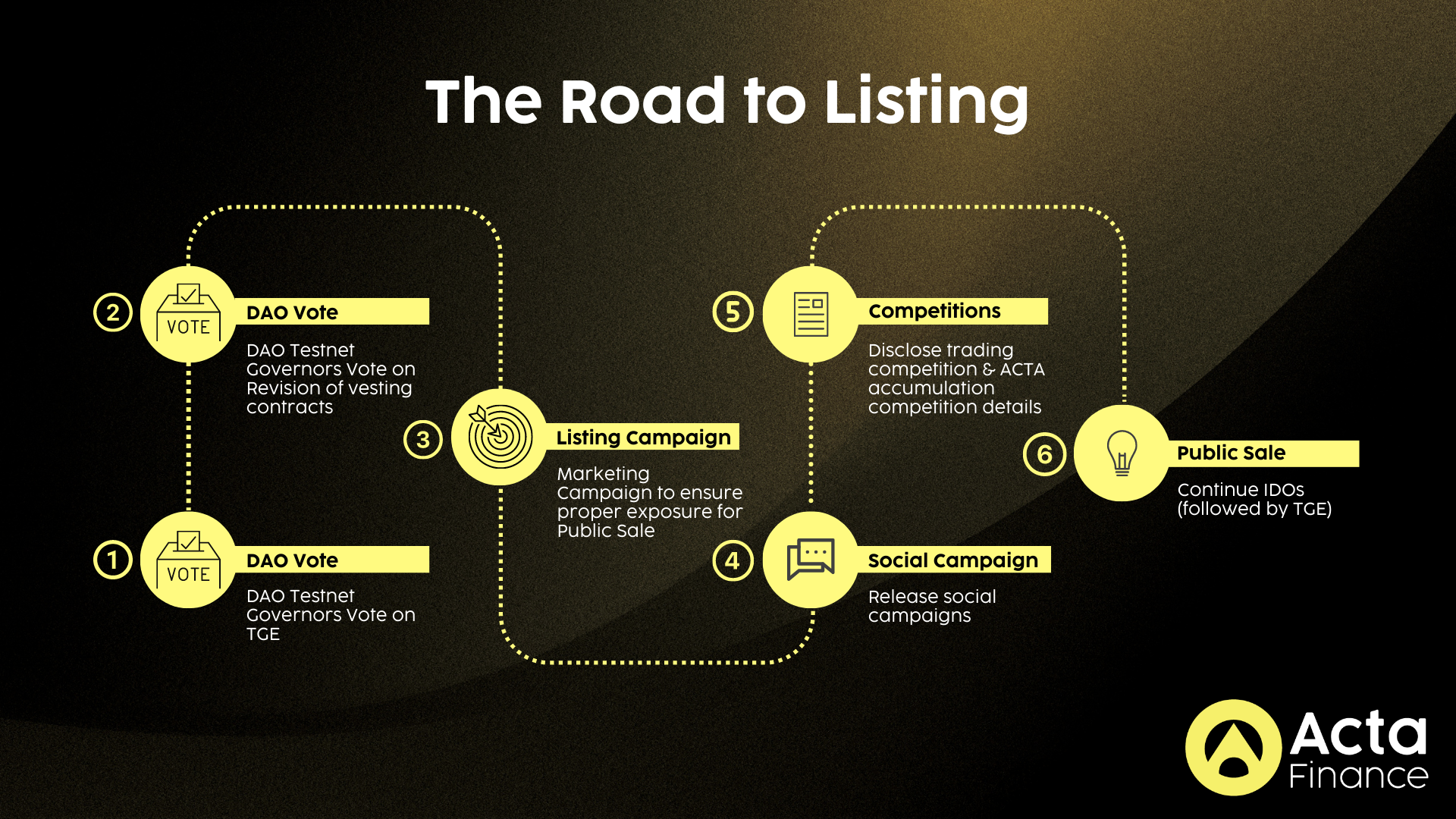 It has been a wild ride so far and nobody could have prepared the core team for the obstacles we successfully conquered on the road. We appreciate the patience of our presale investors and are grateful for their support. We'd also like to take another moment to highlight all of our incredible partners and advisors as well, as they have spent numerous hours providing us with their professional opinions so that we could bring this industry a truly exceptional DeFi ecosystem. Finally, to our dedicated community members we'd like to extend a huge thank you. Your relentless support has kept us pushing forward even in the toughest of times.

Collectively, we make up the ActaFam and are looking forward to taking every step of this next leg of our journey not as separate interested entities, but together as a family with a shared vision of a more abundant, revolutionary and inclusive financial future!