ActaFi Launchpad Tutorial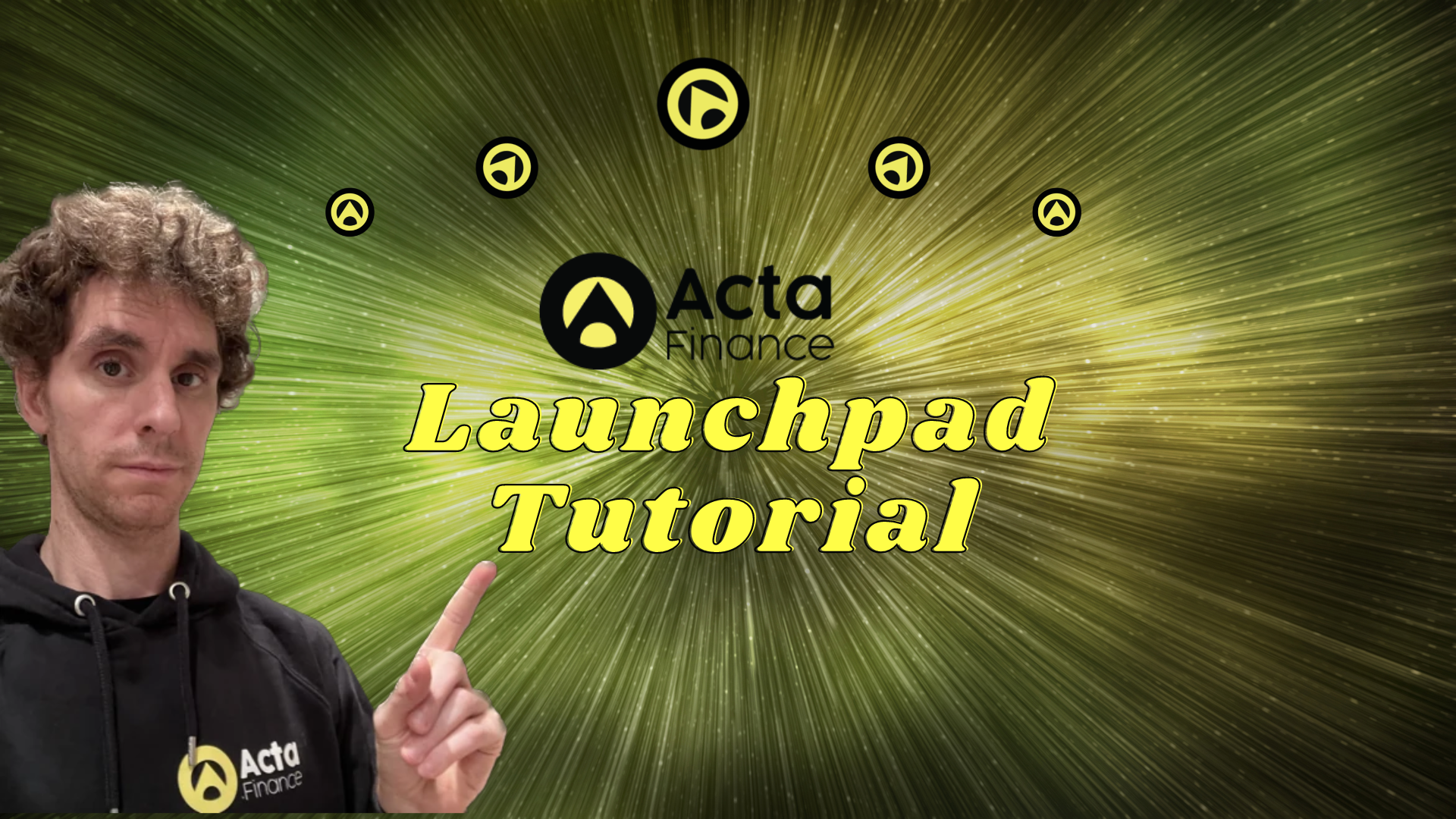 The ActaFi Ecosystem recently released the ActaFi Launchpad on testnet for public testing. In order to make testing easy for everyone, the team provides a tutorial that explains each step of the process. Let's get started!

1. Go to Acta Finance Testnet
2. Connect Your Wallet
Connect your wallet to ActaFi Testnet.

3. Perform KYC (Know Your Customer)
 Being a DeFi Ecosystem does not mean that we neglect regulations. Investing in startups requires a verified KYC of each investor. This is to protect the project that raises funds through ActaFi Launchpad, but also protects the launchpad itself. Users can submit KYC by Passport, ID Card, or Driver License.
Performing KYC has 4 stages:
Pending
The team has yet to review your data, this can take up to 48h


Rejected
The team reviewed and rejected the KYC. This can have multiple reasons which will be described in the rejection


Expired
Your document has expired and you aren't eligible to invest in startups until a document is provided that is still valid.


Approved
Green light to proceed
Go to 'Launchpad' in the header and a dropdown menu will appear. Click on 'KYC' to find the KYC menu and submit your KYC.

4. Claim Testnet Tokens
In the wallet dropdown menu, you will find 'Testnet Tokens'. A pop-up will open where you will see USDT, ACTA, AVAX, and a button 'Claim Testnet Tokens'. Click on 'Claim Testnet Tokens' and approve the transaction.

When received, you can hover your mouse in the pop-up window over the USDT / ACTA icons and will notice 'Import' function appears. When clicking on it, your wallet will open asking you to add the asset data to your connected wallet. If you want to see the testnet assets and balances in your wallet, simply click 'Import' for both USDT and ACTA.
IMPORTANT: We have resetted the faucet and users are limited to claim testnet tokens only once!

You will need the:
ACTA - To stake and get investment tier
USDT - To invest in the launchpad test project(s)
AVAX - For Gas fees

5. KYC Approval
Prior to continuing with the next steps it is important your KYC has been approved. We are working on email (KYC) updates to the users, but this will be implemented only at the update, end of November.
Go to https://testnet.actafi.org/launchpad/kyc and check your KYC status. In the event your KYC is approved, you can move on with the next steps.

6. Stake ACTA Tokens to acquire an investment tier.
To acquire an investment Tier, users need to have the minimum amount ACTA Tokens staked. Staking ACTA is available directly on the 'invest' page: https://testnet.actafi.org/launchpad/projects/acta-finance-test/invest, but also directly on the ACTA 'stake' page: https://testnet.actafi.org/earn/stake
The Tier requirements have been adjusted to suit testnet, meaning much lower amounts are required for each Investment Tier level, due to the limited amount of testnet tokens that can be claimed.
Staking ACTA has an APR of up to 15%, without lockup, but has a deposit fee of 0.75%, and 0.5% withdrawal fee, which feeds the referral and DAO Program. 

7. Apply For Allocation (< 24th November, 6pm UTC)
Applying for an allocation guarantees the user to have an investment ticket. The value / amount that the user can invest can only be calculated at the end of the 'Apply for allocation' round.
https://testnet.actafi.org/launchpad/projects/acta-finance-test/invest

8. Tier-investment round (25th - 26th November)
KYC verified users, with an investment tier by staking / holding DAO title, that have applied for an allocation (Step 7) are able to invest in this stage. The smart contract calculates the basic allocation which gets multiplied according to the user's investment tier.
The investment ticket value that got allocated to you is an 'up to' amount. You are not forced to invest 100% of the ticket or to invest at all. https://testnet.actafi.org/launchpad/projects/acta-finance-test/invest

9. First Come First Serve (FCFS) Round (27th November)
All non-sold project tokens move to First Come First Serve round. Only KYC-verified users are eligible to invest in this round. First Come First Serve says it all, being fast is important to avoid missing out on the opportunity!
https://testnet.actafi.org/launchpad/projects/acta-finance-test/invest

10. Claim Investment Tokens (Starting 28th November)
The claim portal becomes available after FCFS round ended. The vesting can be followed directly from the vesting portal and interactions with project's smart contracts, such as farming, can be done directly from the ActaFi Launchpad Vesting Portal.
https://testnet.actafi.org/launchpad/projects/acta-finance-test/claim

We hope this tutorial will make it easier for everyone to participate in our bounty program on Zealy. Rest assured, we will perform multiple launchpad testnet sequences.
-------------------------------------------------------------------------------
Join ActaFi Community
Telegram - https://t.me/actafi_official
Twitter - https://twitter.com/actafi
Discord - https://discord.com/invite/CDQavQDaR4
Zealy - https://zealy.io/c/actafi/questboard