The First ActaFi Protocol 2023 Testnet Update is Here!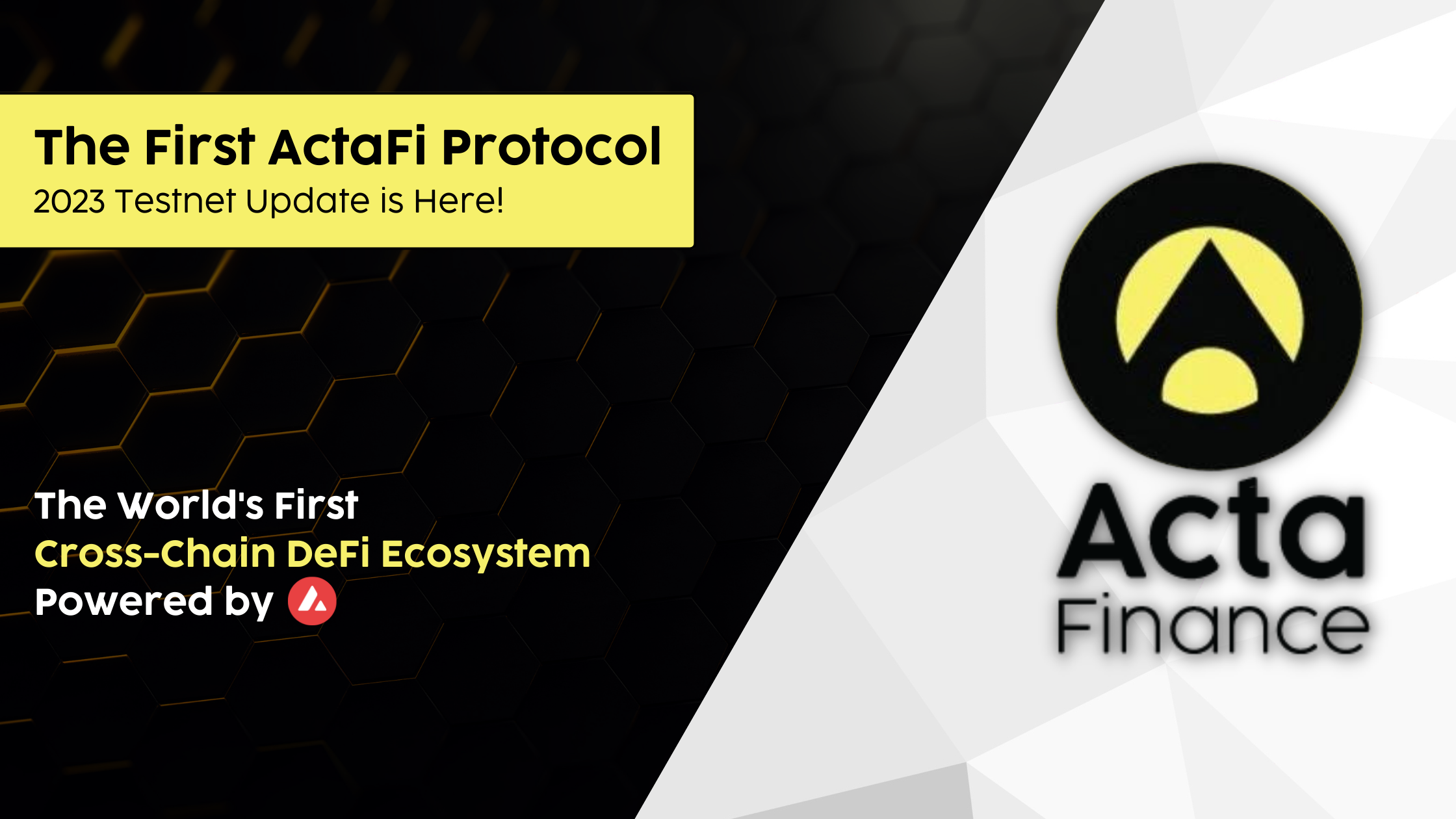 The First ActaFi Protocol 2023 Testnet Update is Here!
We've just finished reflecting on some of the many feats we conquered as a team and community in 2022. Those of you who read our 2022 Recap & New Year's Goals blog post, know we have our sights focused on even greater accomplishments for 2023; in fact, we've launched into the new year at full speed to deliver ActaFi products to motivate the ACTA Token for the secondary market on listing. Today we're proud to officially present you with our first testnet update of 2023 along with a glance at what's to come. Let's dive in!
The ActaFi Calculator is Now Available on Our Landing Page
Let's warm up our 2023 releases with the ActaFi Calculator! The ActaFi landing page now has a calculator that shows a simulated result of a swap. Visitors can simulate a swap, check the estimated swap outcome, and in a moment determine if ActaFi Swap can offer the best result on the Avalanche blockchain. 
The ActaFi Calculator uses the liquidity aggregator router to accurately compare ActaFi's results with swapping on other popular exchanges such as Trader Joe, or Pangolin, to ensure we always give you more with the best rates!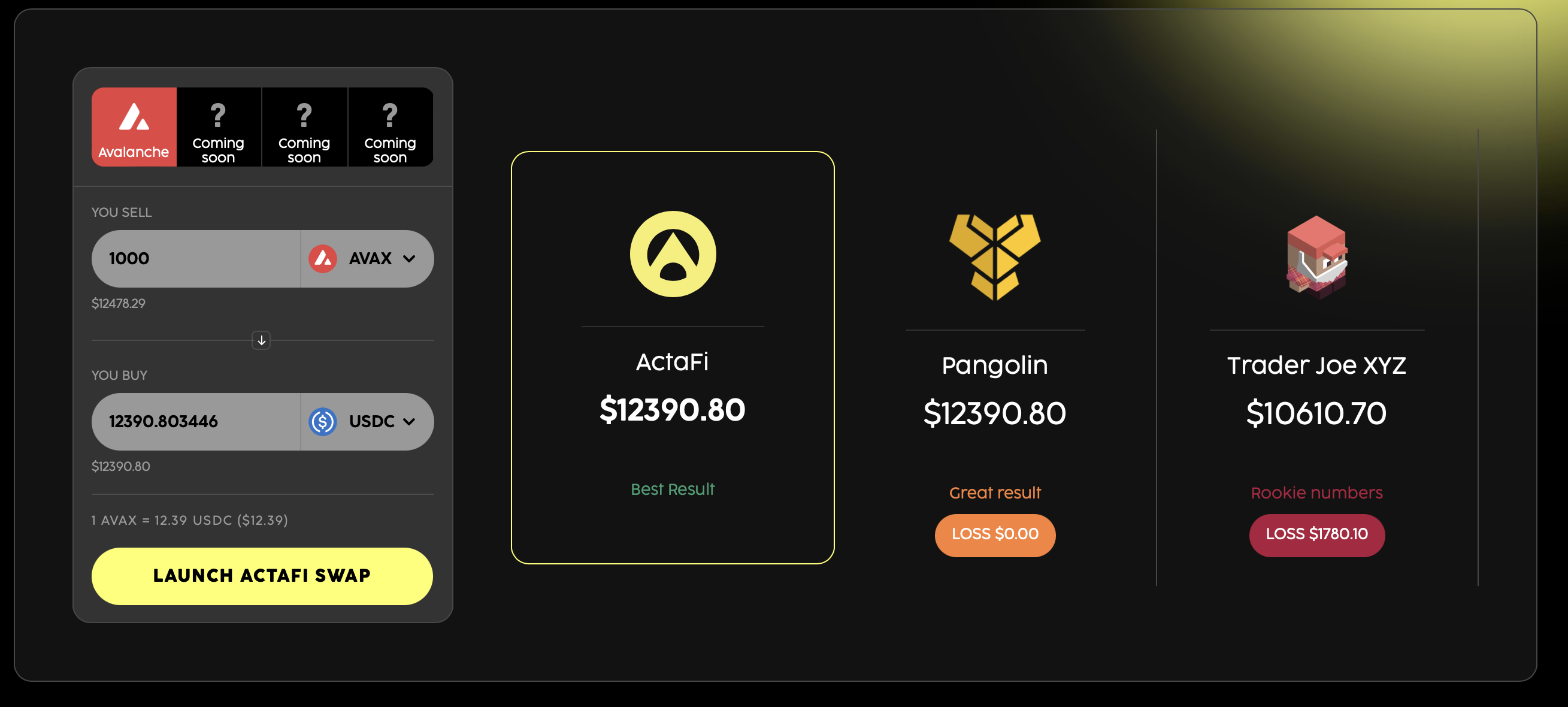 Liquidity Aggregator Router
Our goal of enhancing ActaFi Swap is well underway with our most recent upgrade taking it from a standard AMM to a powerful liquidity aggregator. We now upgraded the ActaFi Swap router to show where the liquidity is being aggregated from, which liquidity pool, and what amounts, in percentage.
This upgrade not only offers transparency but also helps traders keep an eye out for arbitrage opportunities. ActaFi Swap's v2 upgrade is hereby complete making it independent from its liquidity providers.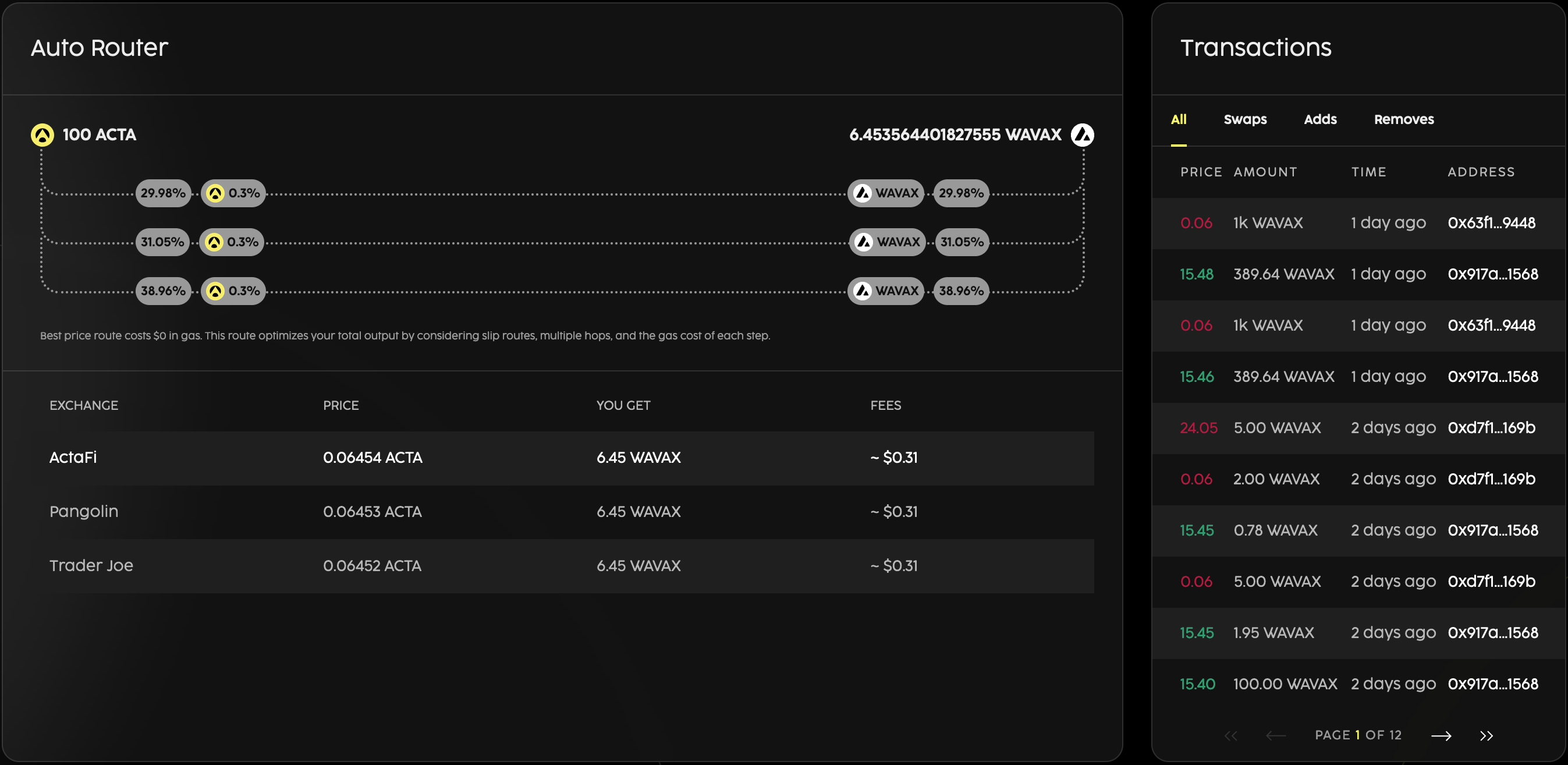 Technical Analysis Charts Arrive On ActaFi Swap's Pro View
It has always been a priority of ours to ensure the ActaFi Ecosystem combines multiple products and technologies in one place to provide the best, most convenient and most user-friendly experience. We've kept that priority in mind while updating ActaFi Swap's Pro View with integrated TA Charts licensed directly from Trading View. Users are now able to perform Technical Analysis without leaving the ActaFi ecosystem, enabling them to retain uninterrupted focus on any potential swap opportunities.
We believe traders will excel the most if given easy access to effective professional tools so we're providing them on ActaFi Swap!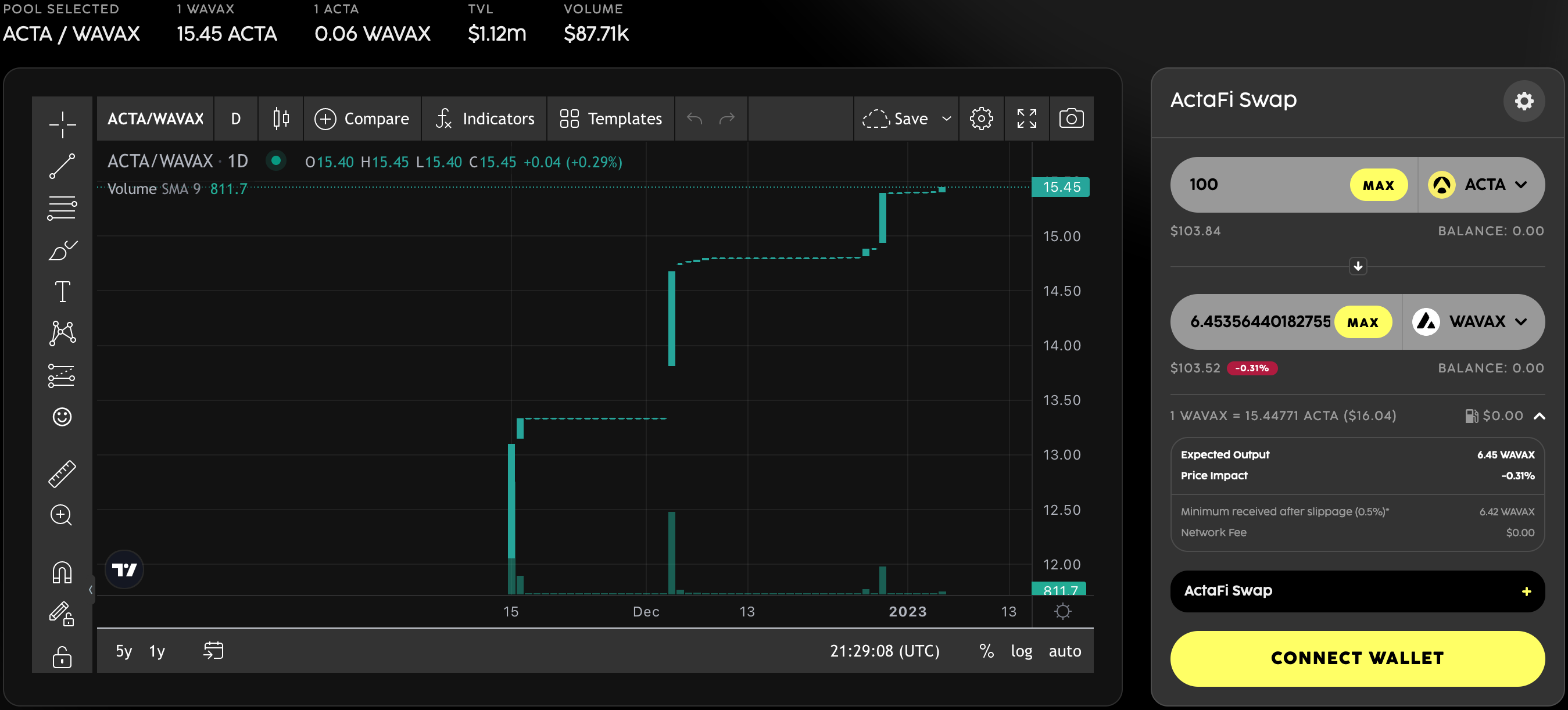 What to Expect from the Next Testnet Upgrade - ActaFi DAO
The next testnet upgrade is expected to launch within two weeks from now and will contain the long-awaited ActaFi DAO Program! The designs are being developed currently and next week marks the start of integrating the DAO smart contracts to the front end. 
It's important to note that there are multiple stages so testing the DAO will take a few days. This process will be followed by our first DAO vote concerning the revision of the vesting schedules and the ACTA TGE!
In the meanwhile, the smart contract development team is working together with Hacken to polish the smart contracts, which will be ready by the 15th for the re-audit and to confirm our fixes to the smart contracts are viable.
We couldn't be more excited, or more motivated about embarking on an even more successful journey in 2023 and look forward to having you with us every step of the way! 
About Acta Finance
Acta Finance (ActaFi) is a cutting-edge DeFi ecosystem that aims to empower individuals and organizations to take control of their financial future and make informed decisions that drive positive change. With a focus on transparency, security, and accessibility, ActaFi is building a decentralized financial system that introduces many centralized features for the first time on-chain to fight manipulation, corruption, and abuse of passive earning features. 
Whether you are an experienced financial professional or just starting to manage your economic well-being, ActaFi has something to offer you. Our comprehensive suite of tools and resources are designed to help you make informed decisions, optimize your financial strategy, and achieve your long-term goals. ActaFi is more than just a protocol – it is a community of individuals and organizations working towards a shared vision of a more abundant, revolutionary and inclusive financial future.
Follow our Social Media Channels to stay up to date.🚀
Website | Twitter | Medium | Newsletter | Youtube